CALENDAR of EVENTS
Dates subject to change.
Updates and other events added as information becomes available

• OPENING DAY of FISHING SEASON
Last Sat in April
• 15th Annual Gun Rights Dinner
June 4
Cocktails 6pm • Dinner 7pm
Sponsored by Bridgeport Gun Club
Featured Guest: 3 time Olympic Gold medallist - Kimberly Rhode
For tickets and information: 760.932.7177




June 11-12
Dogs, Art and artists, Crafts Demos and Classes, snacks, Event Shirts and Dye Booth, Snazaroo Face Painters, Wild Hair Art, Quirky Western folk art, fresh air and good clean family fun.
Welcome all well-mannered dogs, adults and children.
"The Land of Please and Thank you"
Unattended children will be sold to the circus.

• Fish Tourny
June 18
JULY 1 - 4
143rd Annual
Old fashioned, Small Town USA
July 4th Celebration
6 am on the 4th • Pancake Breakfast at the Memorial Hall
10 am on the 4th • PARADE down Main Street
2005 theme: "Reflections of Freedom"




As many as 100 entrants including full dress Marine Color Guard, Mule String, 40 man Precision Marching Regiment, Scouts, Motorcycles, Horses, Fire Engines, Antique Cras, Kids with dogs, and folks from far and wide lining our charming Main Street. Trophies.
Visitors encouraged to participate!! Show your colors with pride!
Games, Rides, Crafts Fair, Book Sale (Sat, Sun, Mon)
Shopping, Slides and rides, Bounce house, Marine demonstrations
Softball Tourny 760.932.7362
Turkey Shoot 760.932.7177
Brenn Hil,l Cowboy Balladeer at The Barns 775.545.7003
Mud Volleyball, Rubber Duck Race, Greased Pole Climb
FIREWORKS
over The Lake
At Dark on the 4th
BOOK ROOMS EARLY!!!
Ghost Town
Jeep Jamboree
July 15-17 • Ride the Bodie Hills
(530) 333-4777
Founders Day




Sept 2 -4 • Labor day Weekend
Hay Rides, BarBQue, Friday Night Dance, Saturday Team Calf Branding.
REAL cowboys and ranchers gather to participate, swap stories and catch up with far flung friends
The 3rd annual Bridgeport Founder's Day Celebration on Labor Day weekend is co-sponsored by the Mono County Historical Society and the Bridgeport Chamber of Commerce. The event celebrates the pioneer spirit that settled the majestic Bridgeport Valley. The festivities begin with a BARN DANCE Friday night at the Bridgeport Ranch featuring the popular Steve woods Band of Bakersfield.
Satruday's list of events respectfully gets rolling at 9:30am with the raising of the American flag by an U.S. Marine Corp color guard. The exciting TEAM ROPING follows at 10amat the rodeo grounds, courtesy of Centennial Livestock and the Scierine Ranches. Hunewill Ranch HAYRIDES will be available at the Bridgeport Ranch. FPFA President & World Champion mule shoer & farrier Tony Baratti will demonstrate his skills and the Virginia Lakes Pack Outfit will be present with team and tack.
GOLD PANNING demonstarions on the Courthouse Lawn. Native Paiute arts and crafts.Fly fishing demo. Bodie State Park aide, Terri Geissinger will present a LUNDY TALK at the Bridgeport Library. Fire Department will host an open house. The Memorial Hall will again have quilt and watercolor painting exhibits and the ever popular INDIAN TACO stand will be whetting your appetite. WALKING TOURS will be offered at the Mono County Museum.
Founder's Day concludes with a SPAGHETTI DINNER and DESSERT AUCTION at the Memorial Hall, presented by the Bridgeport Gun Club, followed with a WEDERTZ FAMILY Historical Presentation delivered by Bridgeport resident Jan Wedertz Huggans.
Eastern High Sierra Classic Endurance Horse Ride
E Clampus Vitus Weekend
Free Fishing Day
Opening of Deer Season

• October November
Fall Colors Peak (around 2nd week)
Twin Lakes, Green Creek/Dunderberg Meadows, Lundy Lake, Virginia Lake, Conway Summit
Ducks Unlimited Dinner
Fishing Season Ends
Nov 15
• December
Closed for Winter. Brrrr.
Twenty/Thirty below and windy!
We're outta here.
• Mid March
Re-open in time to find what froze or blew off over the winter and begin the repairs. Gear up for fishing opener and another season in the magnificent High Desert of the Eastern Sierra.
Come to Bridgeport and see why WE keep coming back!

Clean • Friendly • Competitive Rates
Check out our rooms
and more
AIR CONDITIONED
Pets on Approval
Free Ice chest fill up to registered guests
Cozy Patio, Gazebo and Grills
Handicap facilities with roll in Shower
Fish freezer and cleaning station


Within seconds of Restaurants, Shops, Museum, Historic Courthouse, Old Jail
NEAR:
BRIDGEPORT RESERVOIR, TWIN LAKES, Natural Hot Springs, Bodie Authentic Ghost Town (this ain't no Disneyland. It's the real deal.)
25 miles NORTH of Lee Vining and Tioga Pass
Two hours SOUTH of Reno
Far Enough NORTH of L.A.
Convenient to local restaurants, gift shops and all that is Bridgeport.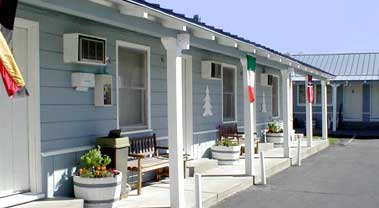 At the corner of 395 and Twin Lakes Road in
BRIDGEPORT, CA
RESERVATIONS
888.932.3292
your hosts - Ed and Mary Ellen
email







P.O. Box 674 • 425 Main Street (Hwy 395)
BRIDGEPORT, CA 93517
760.932.7060
RESERVATIONS • 888.932.3292
email us
MAP


This site is copyright 2010 REDWOOD MOTEL Bridgeport, CA.
All Content, Maps, Graphics, Illustrations, Text, Taglines
and Photos, unless otherwise noted,
are copyrighted property of MaryEllenSzper and flyingfrog.com.
"The Great American West at it's Best"
copyright 2010 flyingfrog.com
ANY and ALL Unauthorized reproduction or use of any kinds
is prohibited and protected by copyright laws.
Last update Sept 01, 2010