BRIDGEPORT • CALIFORNIA
Click the small photos to see large ones
Travertine
Hot Springs
Undeveloped, no fee and a mere two miles away.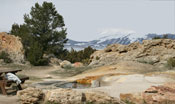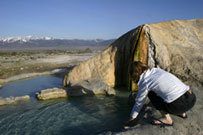 TRAVERTINE MARBLE
The largest deposit of Travertine Marble in the contiguous forty-eight, this is
no longer a clothing optional
area. Access is free. We recommend you bring a flashlight and enjoy the spectacular vistas day or night. The Big Meadow laid out at your feet with tiny Bridgeport twinkling in the sunset

Ask at the desk for "hot springs towels" and map.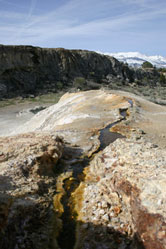 The hillside is geologically alive! Simply Magical. More than just a hot soak. Trace burbling trickles along cracks and crevices in the fins of marble that rise up out of the hillside. Pools of primordial ooze dot the landscape. The air resonates with the song of kildeer and birds moving along the migratory flyway with the majestic granite of the eastern Sierra as backdrop. Not a bad place to live, work and play!

PLEASE, Pack Out your Trash, and one other person's.
Until commonsense and courtesy become more prevalent, a smaller group will always be picking up after another in order to maintain a higher standard.
Thanks for your help.
Look for Art and Arf event shirts with this badge of honor!

RESERVATIONS
888.932.3292
P.O. Box 674 • 425 Main Street (Hwy 395)
BRIDGEPORT, CA 93517
760.932.7060
email us
This site is copyright 2010 REDWOOD MOTEL Bridgeport, CA.
All Content, Maps, Graphics, Illustrations, Text, Taglines
and Photos, unless otherwise noted,
are copyrighted property of MaryEllenSzper and flyingfrog.com.
"The Great American West at it's Best"
copyright 2010 flyingfrog.com
ANY and ALL Unauthorized reproduction or use of any kinds
is prohibited and protected by copyright laws.
Last update Sept 01, 2010