Historic BRIDGEPORT • CALIFORNIA
"The Great American West at it's Best"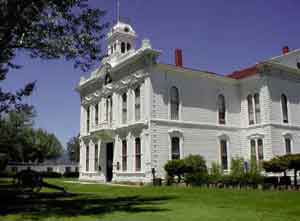 Dating back to 1880, the present Mono County Courthouse is the second oldest continuously operational county courthouse in California. Bridgeport boasts two ghost houses, as well as the status of being the closest village with lodgings to Bodie Historic Ghost Town. The town is threaded with strong sense of history. Visit the Mono County Historic Society MUSEUM at the Old School House for more information.
Main Street USA
"The Great American West at it's Best"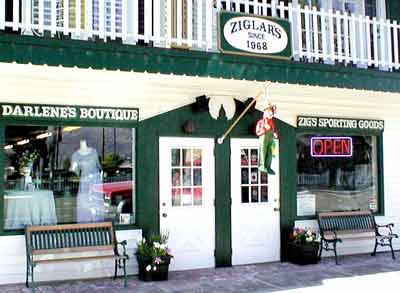 Ziglar's Sporting Goods & Darlene's Boutique
Worth a stop for the character who owns the place.
ZIg's is the oldest business on Main Street.
And Darlene's always has something I want, so I enter with care.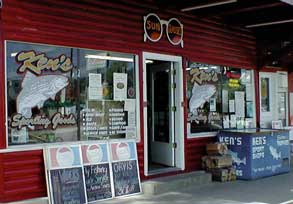 Ken's Sporting Goods
for an extensive selection of hiking, camping and fishing gear,
amongst an inspirational collection of mounted local catch!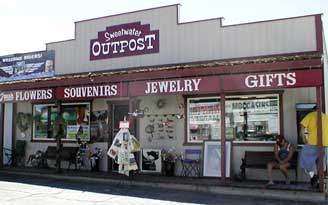 Sweetwater Outpost and Florist
I have no idea how she keeps this fabulous inventory.
If you can't find something you "must have" in here,
well, then, you are simply not looking.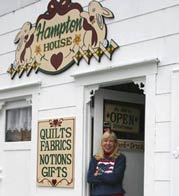 Hampton House
Fabric • Quilts • Notions • Gifts
Peek behind the counter and see what Melanie is sewing on.
Clever gal with a wondeful sense of color!
A MUST SEE for the sewist!
Look for COUPON in "Quilter's Path"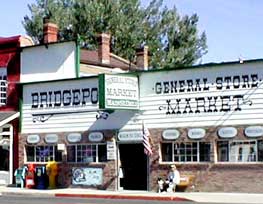 The Bridgeport General Store and Market.

LODGING
888.932.3292
email
P.O. Box 674 • 425 Main Street (Hwy 395)
BRIDGEPORT, CA 93517
760.932.7060
email us
MAP


This site is copyright 2010 REDWOOD MOTEL Bridgeport, CA.
All Content, Maps, Graphics, Illustrations, Text, Taglines
and Photos, unless otherwise noted,
are copyrighted property of MaryEllenSzper and flyingfrog.com.
"The Great American West at it's Best"
copyright 2010 flyingfrog.com
ANY and ALL Unauthorized reproduction or use of any kinds
is prohibited and protected by copyright laws.
Last update Sept 01, 2010